Faith & Work Forum / Sat. Nov. 23 (previously Oct. 12, 2019)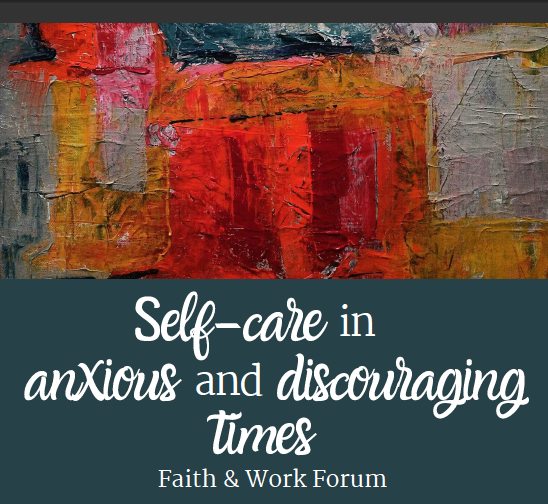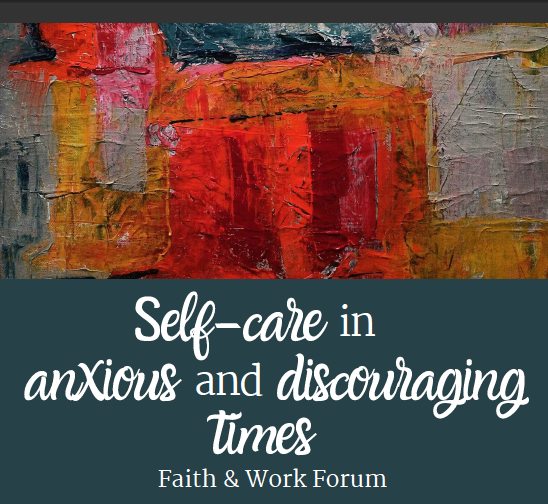 Faith & Work Forum / Sat. Nov. 23 (previously Oct. 12, 2019)
SELF-CARE IN ANXIOUS AND DISCOURAGING TIMES
WE REGRET NEEDING TO CANCEL THE FORUM PLANNED FOR OCTOBER 12TH, DUE TO POWER OUTAGES IN BERKELEY AND THE CLOSURE OF UC BERKELEY AND OTHER NEARBY UNIVERSITIES.
Our speaker and panelists have graciously offered to postpone the forum until Saturday, November 23, and we will be in touch with more information about that.
If you have registered and paid for tomorrow's event, please let us know if you would like a refund or would like it applied to the rescheduled forum. (510 841/9386 or info@newcollegeberkeley.org)
Offering this program on self-care in anxious and discouraging times seems more important than ever as we face the possibility of fire, and I pray you are safe and well-cared for this weekend.
This forum will offer sources of hope in a time when social tensions run high and work/school pressures can be crushing. Join us for a keynote address by Lily Stearns, PhD, MA, MDiv and a speaker panel discussion on what "self-care" entails at the intersection of the university and the church.
Saturday, Nov. 23, 2019 (previously: October 12)

9 am––12:30 pm

Location: Room G202, First Presbyterian Church of Berkeley

Fee $15; Free for students, but registration is required (Students, to register please email info@newcollegeberkeley.org with your name and institutional affiliation.)
Keynote Bio: Lily Stearns, PhD, MA, MDiv has more than 20 years of experience counseling, pastoring, teaching, and leading diverse individuals and organizations. Lily is currently Executive Director of Berkeley Christian Counselors and Assistant Professor of Psychology and Counseling at Holy Names University and was formerly the Executive Director of Asian Community Mental Health Services.
Panel Speakers Bios:
Ryan Pemberton is Minister for University Engagement at First Presbyterian Church of Berkeley. He has a passion for teaching, discussing, and writing about theology, faith, and culture—with and for today's generation. Ryan recently published his first book, a memoir on calling, entitled Called: My Journey to C.S. Lewis's House and Back Again.
Clyde Wayne is an Associate Marriage & Family Therapist at Berkeley Christian Counselors who specializes in work with pre-marital and married couples as well as high school teens and young adults. Clyde is also an ordained pastor having served in church ministry for over forty years.
Naisa Wong is a Spiritual Director at the Gravity Center. Her mission is to support and guide individuals and groups towards discovering and living out their most creative and authentic selves. Naisa has also worked with the marginalized in story-telling and creative discovery to aid in individual and communal reconciliation and healing.